Terms of use
From Gravopedia
Diese Seite in deutsch / this site in german => Nutzungsbedingungen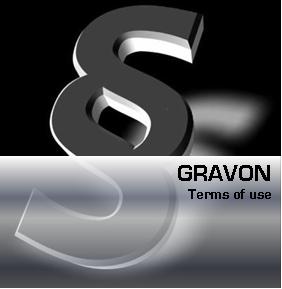 Usage of Gravon is subject to the following terms of use (updated 17.06.2007):
[edit]
Usage of Gravon
Gravon is an Internet service which allows persons connected with the Internet to play board and card games with other persons and exchange messages (chat, forum).
The right to use Gravon can not be enforced by law.
Gravon is made available "as is". There is no guarantee of usability or that the system will be free of errors.
With the usage of the web pages and/or offered services you agree on the following rules.
Disregard of these rules can lead to temporal or unlimited exclusion from the usage of Gravon.
[edit]
Storage of data
With logging in into Gravon and or using the websites, the user agrees that his ip address will be stored permanently without time limits. Only administrators are able to view ip addresses.
The user agrees that with a registration, his email address will be stored permanently. The email address will be used for administrative purposes only unless the user permits or selects other usages.
All game results of games played on Gravon will be stored and used for statistical analysis including but not limited to ranking and rating systems.
The user agrees that Gravon may store all chat messages. Stored messages will be used to prevent abuse and breach of the rules and will not be made accessible to third parties.
[edit]
Selecting a nickname
Every user on Gravon is known under a pseudonym, called a nickname.
It is not allowed to
use displeasing, vulgar, immoral or illegal nicknames
use nicknames with political or religious background
use as nicknames names of persons with political or religious background
use registered trademarks as nicknames
use nicknames that seem to have a relation to Gravon or its administration (e.g. 'Gravon', 'administrator', 'operator', ...)
It is not allowed to form a nickname that is similar to a nickname that is already registered by replacing single letters by replacement characters or special characters (e.g. replacing an o by a zero to form a nickname similar to one already registered) or by using a prefix or suffix to already registered nicknames.
Breaking these rules leads to exclusion from usage of Gravon.
[edit]
Registration
Users can have their nickname registered permanently. The nickname to be registered must not be similar to a nickname already registered. Several functions within Gravon are available to registered users only.
Registrations are not done automatically but by the administrators. In order to get a registration, a valid email account is needed. Email accounts from hotmail (typically ending with @hotmail.com) are accepted only in exceptional cases.
The user is responsible to inform Gravon of any changes of his email address. If a users email address becomes invalid or unreachable, his registration may be canceled.
Registrations can not be claimed.
Because of reasons of fairness, no user is allowed to have more than one registered nickname.
A registered nickname will be changed only in exceptional cases. If a nickname is changed, the change is published at a designated place (e.g. on a website).
If a user has got two or more registered nicknames (thus violating these rules), all his nicknames will be excluded from all rankings. All but one nick will be deleted. After a lock out of 4 weeks this nickname will be re enabled for rankings (in exceptional cases this may not affect players who have been registered before the official validity of this rule).
If a user tries to get more than one registered nickname he can be excluded from using Gravon for a certain amount of time.
Gravon offers a chat where users can exchange messages with each other. The policy of politeness applies. It is welcome to be friendly to other users.
It is not allowed to
insult or discriminate other users
use vulgar or immoral expressions
promote other websites or commercial product in general on Gravon
claim to be an administrator or any other person with a relation to Gravon
disturb other users
In the case of using illegal expressions the user will immediately be excluded from using Gravon. This exclusion will be permanent until further notice.
Besides message exchange the chat system offers other functionality like wakeups and invitations. It is not allowed to abuse these options to disturb other users.
It is not allowed to paste big amounts of text into the chat and it is not allowed to flood the chat by repeating messages.
[edit]
Disclosure of real names
It is unfair and strictly prohibited to mention the real name of any user on Gravon. The real name may be used if and only if this user has fully agreed to its usage. The same applies to real names of administrators.
This rule is valid for all forms of disclosure of real names of a user, including but not limited to the usage of a real name of another user as a nickname.
If a user discloses a real name of another user, he will be excluded from using Gravon for at least 1 week.
[edit]
Disclosure of other personal data
It is strictly prohibited to disclose any personal data of a user without his explicit agreement. Any violation of this rule leads to exclusion from Gravon.
Gravon offers the possibility to play card and board games with other players using the Internet. The policy of fair play applies to Gravon.
[edit]
Leaving running, unfinished games
It is unfair to leave a running game prior to its end. It is especially unfair to leave a game because of bad chances to win the game.
If external events force a user to quit before a game is finished, it is fair and recommended to inform all players about the situation. Some games offer the option to surrender which should be used in such cases.
Of course a game can be canceled if all players agree.
A player repeatedly leaving unfinished games will be excluded from rankings and/or using Gravon for a limited time.
[edit]
Unnecessary delays, slow movement
It is unfair to delay moves for unnecessary long time. If a player does not have enough time or he can't pay enough attention to the game, he should refrain from joining the game.
The above rule does not apply if all players agree to a slower game speed.
In case of doubt, ask your teammates.
[edit]
Game rooms
It is possible to reserve game rooms for a fixed group of players. The maximum amount of reservations is 16 players per room.
If players are present in a game room but did not join the game offered in the room yet, they do not have the right to reserve the offered table. But on the opposite, it is unfair to enter a room and join a game if players are present in that room without asking them.
If a player in a room joined the game offered there with the aim of playing a game, the room is considered to be reserved for that player for the duration of the game.
It is not allowed to reserve a room by joining the game offered there without the intention to play.
It is not fair to join a game of another player without asking, neither before the game started nor while it is running.
[edit]
Rankings
Registered players basically get the possibility to participate in the rankings offered on Gravon. The developers of Gravon do their best to develop and use ranking systems as fair as possible and as adequate as possible for the certain game. It is not our philosophy to have a single general ranking/rating system for every game because each game has its own characteristics which do not fit into a general fixed ranking system. Because of that a ranking system is not offered for all games on Gravon and special rules apply to each ranking system.
[edit]
Stratego ranking
Because of the characteristic of this game, the knowledge about the person of an opponent is critical for the outcome of a game. Especially at stratego care is taken to prevent a user from having more than one registered account enabling him to be present twice in the stratego ranking.
To keep the technically unpreventable double registrations as low as possible, newly registered accounts will be enabled for stratego ranking only 2 weeks after the registration and only on request at an administrator.
Players present in the stratego ranking with more than one account will have their accounts locked from rankings for at least 4 weeks. After this period, all but one nick will be deleted and the nick with the lowest rating will be kept and reenabled for ranking.
If multiple persons share the same ip address only one person can be allowed to play for rankings. Reasonable exclusions are not affected by this rule.
[edit]
Malefiz ranking
No special limitations apply to this ranking, every registered player may participate at the malefiz ranking.
[edit]
Administrators
If a user has a problem, either of technical nature or with another player, he can talk to an administrator on Gravon.
Administrators have the permission to take appropriate action like admonitions or locks if a user violates these rules.
Administrators are human beings like all of us, so it is fair to be friendly while talking to administrators.
Administrators make their best effort to make as fair as possible decisions. Decisions of administrators must be followed.
[edit]
Hacks, cheating
It is not allowed to cheat or use so called 'hacks' which enable cheating.
If a player gets to know of a possibility to cheat, it is strictly prohibited to disclose this information and it is also strictly prohibited to make personal use of it.
It is strictly prohibited to modify, disassemble, decompile or otherwise view or analyze any downloaded program code of Gravon.
It is not allowed to modify the data stream between server and client.
It is not allowed to connect to Gravon with any application or program not certified by the Gravon administration.
Violating these rules will lead to an unlimited exclusion from using Gravon.
Gravon offers a forum to its users as an extended way to communicate.
Every registered user has the possibility to participate in the forum by creating topics and posting replies.
To all postings the same rules as under (5) apply.
Additional rules for the forum:
[edit]
On topic / off topic postings
For every new posting, a forum which is appropriate for the subject of the posting has to be chosen.
Postings that do not fit to the subject of a certain forum will be moved to fitting forums by the moderators.
Totally off topic postings which do not fit to any forum at all may be deleted by the moderators on their decision.
[edit]
Negative comments on users
It is not allowed to post negative subjective comments on a user while mentioning his nickname. Mentioning a nickname is only allowed if the posting is as objective as possible and contains nothing but truth.
[edit]
Privacy
Additionally to the rules under section (5) it is not allowed to include (paste) private chat messages in postings.
[edit]
Liability
The user keeps Gravon free of any liability for his posting and his comments within the forum.
The poster alone is responsible for the contents of his postings.
Gravon is not responsible for the contents of linked pages within the forum.
[edit]
Hyperlinks
Gravon takes no liability for contents of linked external web pages. The operators of such pages are responsible exclusively for the content of linked external pages.
[edit]
Final say
Thorsten Jungblut (on Gravon with the nick spion) has the final say in all regards. He is not bound to any of these rules in any form.